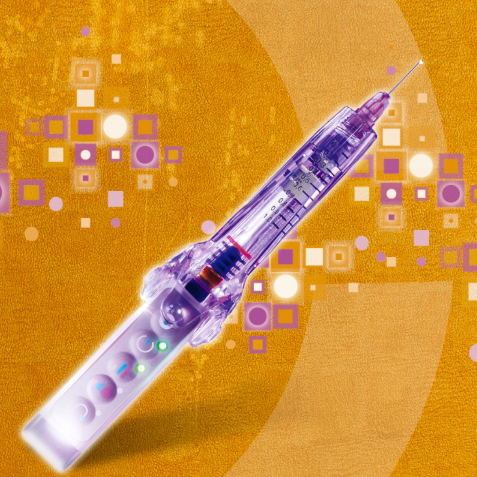 TEOSYAL® PEN: AWARD WINNER OF THE BEST AESTHETIC DEVICE – 2nd Anti-Aging & Beauty Trophy
Teoxane Laboratories have acquired the exclusive worldwide license to market the Teosyal® Pen (outside the United States) from Juvaplus, the first motorized and cordless device specially created to inject hyaluronic acid in order to correct wrinkles and depressions.
The Teosyal® Pen has been designed for practitioners to focus on the artistic aspect of their work. It facilitates hyaluronic acid injections using two programs at three different speeds and thus provides complete control over pressure, speed and product quantity. This cutting-edge technology is especially valuable for the very delicate oral, perioral and periorbital areas where highly precise and homogeneous injections are crucial for a natural result. Experienced injectors, used to handling the syringe, who have tested the device have been pleasantly surprised and switched completely to the Teosyal® Pen. Doctor Wolfgang Redka-Swoboda, surgeon in Germany, confirms: "It is very useful for injectors who inject a lot because you have no application of force and you are concentrate 100% on the right positioning of the cannula or needle. You work much more precisely and I personally felt that the flow of the product is consistently homogeneous. The Teosyal® Pen is very useful to correct the finest lines, because you can apply the material in a very small amount without risk of over-correction. This way of injecting by hand is almost impossible!"
The combination of this unique technology with its ergonomic and light weight design allows a greater ease of injection for the practitioner and a smooth experience for the patient. Doctor Sabine Zenker, dermatologist in Germany, confirms: "It's all about enabling patients to relax and make them feel comfortable. This is the result of an injection system such as the Teosyal® Pen". Practitioners who have injected with the Teosyal® Pen are unanimous about their patients' positive experience. Doctor Hassan Galadari, dermatologist in the UAE, reports: "I have been using it in difficult or tricky areas (lips, tear troughs) and the Teosyal® Pen works fantastic. In those areas I think you get a much better cosmetic result, with less pain and more patient satisfaction."
Teoxane Laboratories' objective has always been to provide innovative solutions for both practitioner and patient. With the Teosyal® Pen they combine their expertise in manufacturing highly valued dermal fillers with the technology that optimizes the art of injecting.
The two Swiss companies, TEOXANE and JUVAPLUS are welcoming this collaboration. Madame Vale?rie Taupin, Founder and Chairwoman of TEOXANE Laboratories declared: "TEOXANE is constantly looking for the best solutions to improve patients' comfort and to reduce recovery time, as well as the latest innovations to inject hyaluronic acid in a more precise way. That is why the Teosyal® Pen totally met our expectations. Monsieur Bernard-Pierre Legrand, CEO of Juvaplus, and his team have invented a device (the Teosyal® Pen) which significantly reduces injection pain and minimizes side-effects." Monsieur Legrand added: "We are delighted to have joined forces with Teoxane, one of the world leaders of hyaluronic acid based dermal fillers and certainly one of the most innovative laboratories on the market." TEOXANE and JUVAPLUS are looking forward to providing both the practitioner and the patient with a new and advanced experience of injecting.